Steve Day describes himself as Britains only deaf comedian, if there are any others he hasn't heard. Actually there are a couple of others who have started since he wrote that joke, but it's only a joke after all.
For the past eleven years Steve has been performing to huge laughter around the country and abroad, well they tell him the laughter was huge to humour him, he doesn't know either way.
Married with five children, a fact nothing to do with not being able to hear the word 'No', Steve has been described as 'warm and witty' by the Scotsman and has received many other rave reviews whilst performing shows at the Edinburgh Fringe Festival. Chortle.co.uk gave him five stars in 2007 for Deafy's Island Discs, a show The Sunday Times called 'Funny and Moving'. This show toured the UK in 2008, Steve's third national tour of the uk, and has been performed in several countries in Europe and translated into Italian. No-one knows why.
A familiar voice on Radio 4, Steve has appeared many times on You and Yours, was a token man on Woman's Hour, has appeared in two radio dramas, All Fingers and Thumbs with Bill Nighy, whom he punched dramatically, and Sound Barriers with Patricia Routledge and Caroline Quentin, both of whom he was prevented from punching.
A disabled performer, Steve is more concerned with success in the mainstream comedy circuit, but is happy to 'deaf it up' as necessary if the money is ok and there are sandwiches.
The End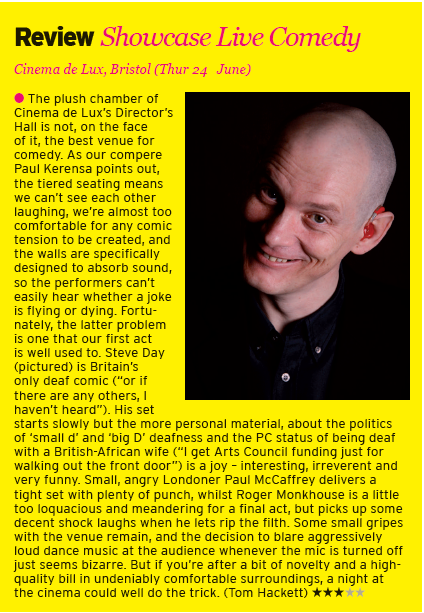 "Revelatory and very funny" - The Guardian

"Wonderful" - Bath Chronicle

"Warm, funny, frank and thought-provoking" - The Scotsman

"The best comedy often comes from real-life observations, something that Day had down to a T" - Brighton Argus

"A very different kind of comedy ... something which Day seems particularly proud of, and so he should be" - Three Weeks

"A hilarious, hard-of-hearing, heavenly host" - Time Out Comic's Choice

"Has a self-effacing charm which endears him to audiences" - Chortle